DerpyCon welcomes guests from all different fandoms! Continue to check back throughout the summer and fall to learn more about the guests that will be coming to Morristown this October.
Cherami Leigh
Voice Over Guest
Cherami Leigh has been acting for over 20 years and has appeared on Friday Night Lights, Shameless, Chase, Bones, NCIS:LA, and more. She also worked on Fast Food Nation, The Mist, The Hottest State, Not Cool, the Emmy Winning Temple Grandin, and played the Young LeAnn Rimes in Holiday in Your Heart. She recently starred in the faith based film Beyond the Farthest Star. She has worked on over 50 video games and over 150 animated projects including Doc McStuffins, La La Loopsy Girls, Kings Quest, Borderlands 2, and various anime series including Sword Art Online, Sailor Moon, and Fairy Tail to name a few.
Colleen O'Shaughnessey
Voice Over Guest
Colleen O'Shaughnessey is a voice actor who can be heard on numerous animated series & features, video games, commercials and toys. She is best known for her roles as Tails on Sonic Boom, Wasp on Avengers – Earth's Mightiest Heroes, Jazz on Danny Phantom, and Sora on Digimon & Digimon Adventure Tri. Other noted roles are Pickles on Doc McStuffins, Mom on If You Give a Mouse a Cookie, Ino & Konohamaru on Naruto, Kelsey/Glitter Sunny on the Glitter Force, Anna from K Return of Kings, and Nel on Bleach. She is excited to have recently joined the cast of Boruto: Naruto Next Generations, playing the part of Choji's daughter, ChoCho. Some features include Storks, Monsters University, Toy Story 3, Horton Hears a Who, Ponyo, Spirited Away & Cars. She is the female Asura from Guild Wars 2, Alicia from Valkyrie Chronicles, Kos Mos from Xenosaga, multiple characters on Hitman, Southpark-Stick of Truth & The Fractured but Whole, Final Fantasy VII & XIII, Fallout 4, and many more games. She has lent her voice to commercials for Brita, McDonald's, Lexus, Yahoo! & Whole Foods, to name a few. Follow Colleen on Twitter – @VOColleen and Instagram – @colleenoshaughnessey.
Mick Wingert
Voice Over Guest
You may know him as Po, the panda on the new Kung Fu Panda: The Paws of Destiny, Iron Man in Marvel Avengers Assemble: Black Panther's Quest, or as Slappy, the deranged ventriloquist's dummy in Goosebumps 2: Haunted Halloween, but these are just the tip of the iceberg for California native, Mick Wingert.
Originally hailing from the San Joaquin Valley, Mick has been a working voice actor since 2000 and has worked in television, film, stage, new media and live events.
In addition to his franchise heroes and villains, Mick Wingert can be heard as such iconic characters as Targa in Fist of the North Star: Paradise Lost [Atlus Games], Vigilante on the fifth season of Arrow [CW], TMNT's Raphael in Teenage Mutant Ninja Turtles: Mutants in Manhattan [Activision], and as Mr. Slugworth in Tom & Jerry: Willy Wonka & the Chocolate Factory [WB Home Ent.] He has also performed in such animation and video game properties as Spiderman PS4 [Insomniac Games], Red Dead Redemption II [Rockstar Games], Batman: Assault on Arkham [WB Home Ent.], Elena of Avalor and Sofia the First [Disney], Titan Fall 2 [Bioware], Breadwinners [Nickelodeon], Tinkerbell and the Pirate Fairy [DisenyToon], T.U.F.F. Puppy [Nickelodeon], The Princess and the Frog [Disney], Batman: Year one [WB Home Ent.], The Avengers: Earth's Mightiest Heroes [Marvel], Bones [Fox], The No Sleep Podcast and more.
In 2018, Mick launched his own science fiction, horror audio drama podcast anthology featuring many of today's top, working voice actors called, The Hidden Frequencies.
You can follow Mick on Twitter and Instagram under the handle @mickwingert.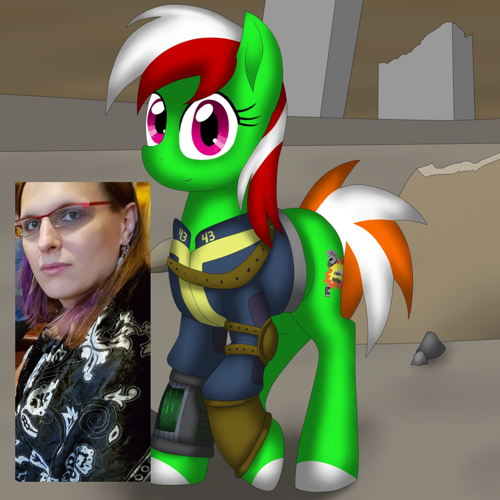 Fiaura The Tank Girl
Community Guest
Fiaura The Tank Girl does scientific analysis of fandoms from 40K to My Little Pony!
No fandom is beyond the look of the eye of science! In addition to this, she is the writer and author of Fallout: Equestria Dead Tree – the first legally published Fallout: Equestria Novel in the United States. The Actress for Queen Quake and Cato Sacarius. Come see the insanity she has brought together or what science can wrought for Merchandise pieces from Glassware and Tins to Metallic Prints and Bottlecaps!
Mikal Mosley
Cosplay Guest
Mikal Mosley has a Bachelor's Degree in Dramatic Arts from Coastal Carolina University in South Carolina, and after learning sewing, design, and construction in college, his passion for theater and self-expression combined into an unstoppable passion for costuming and cosplay.
Mosley is currently a designer and creator of both professional stagewear and cosplay costumes for private clients and celebrities, including various WWE Superstars, rappers, and NFL football players including WWE's Xavier Woods, Kofi Kingston, Big E, and Ember Moon, Ring of Honor's Cody Rhodes, and NFL's Mike Daniels (Green Bay Packers) and Adam Gettis (Tampa Bay Buccaneers).
In addition to creating more than 350 unique costumes from a variety of genres, he also designs and fabricate props for stage plays and television shows. He considers himself an expert at transforming everyday items into original accessories and has inspired many long-time cosplayers into getting started designing their own creations on a budget. Footage of his craft can even be seen in two televised specials – one which aired on WWE Network this spring (The New Day's Fantastic Ride) and the second will premiere on ESPN this fall.
Aside from his talent in costume design, Mosley brings extensive experience as a professional presenter, host, and emcee. Mosley's background in improvisational acting has provided him the gift for reading his audience, which allows him to consistently deliver a targeted and exciting message.
Shoujo-A-Go-Go
Cosplay Guest
Standing at the intersection of anime, comics, cosplay, and drag is Shoujo-A-Go-Go, the champion of love, justice, and glitter! Shoujo's alter ego, Jessi Pascal, is the artist of webcomic Geeks Next Door and has been doing cosplay for fun (and the occasional contest) since 2007. The former reigning Super Art Fight champion and sugar-coated glambassador brings a unique sense of whimsy, humor, and surprise to every show. Visit geeksnextcomic.com or follow her on Instagram at jessibstar to learn more about her art, stitchcraft, and wigometry!
DJ Awesomus Prime
Musical Guest
Rocking conventions all over the East Coast, Awesomus Prime delivers a music experience that spins nostalgia and nerd culture into one delicious sushi roll. What sets Awesomus apart from many other convention dance and after party DJ's is his love for the people. Spreading a positive message through his performance, he wants everyone to feel that they are part of a community that supports and loves them no matter how geeky or weeb you might be. Awesomus brings his extremely high energy performance right off the stage and on to the dance floor right there with you; he's even been known to include his fans in his show with dance offs on stage, impromptu games and give-aways and his usual wild antics. Awesomus Prime has also shared the stage with some amazing talent like MC Lars, Mega Ran, Hyper Potions, DJ Cutman and Kenzie Black; he is also a part of Otakus With Attitude, an NYC based community dedicated to the urbanization of Otaku culture through social interaction, community building, events and apparel. When he's not handing out high fives, Awesomus is headbanging the night away alongside everyone. Awesomus Prime is the peoples DJ!
The Clockwork Dolls
Musical Guest
The Clockwork Dolls formed in 2007, the concept was simple: theatrical, grand, epic music for folks who dream, and dream big. Hailing from diverse backgrounds, this band of video game nerds, theater geeks, artist rejects, and history buffs took the music scene by storm with their 2009 debut album, Dramatis Personae. After garnering a reputation in the steampunk community performing at events such as Steampunk Worlds Fair as well as World Steam Expo, The Clockwork Dolls took a brief foray into history with their WWII album When Banners Fall.
Now working on their third studio album Sleepwalk Chronicles The Clockwork Dolls hopes to continue their tradition of cinematic style symphonic rock with a mix of electronic music.
Our lineup for DerpyCon 2019 features the talent of Julie Zakar, vocalist and lyricist, Sam Lee, multiinstrumentalist and keyboardist, singer and guitarist Robare James Pruyn, and guitarist Sebastian Macaskill.
Learn more about The Clockwork Dolls at their website, or follow them on Facebook and Twitter.